Subscription conditions
Subscription conditions
---
The subscription conditions are the set of basic parameters of your offer to CopyFX investors. The subscription conditions are specified when the Trader's account is opened and may be changed during the trading process in the platform.
Minor conditions:
1
Minimum deposit
The minimum deposit is the amount of money required from the Investor if they want to subscribe to your account.
2
Subscription mode for Investors
"By request" mode implies that you have an opportunity to approve or reject Investors' requests to subscribe to your account. Tick the "Show in Rating" checkbox if you want your account to be displayed in the rating.
3
Account to transfer commission to
You may choose any account to transfer commission from subscribed Investors to.
4
Delay time
Period after which your transactions appear on CopyFX Tradewall.
5
Trading strategy title
Title of your trading strategy.
6
Trading strategy
Description of your trading strategy.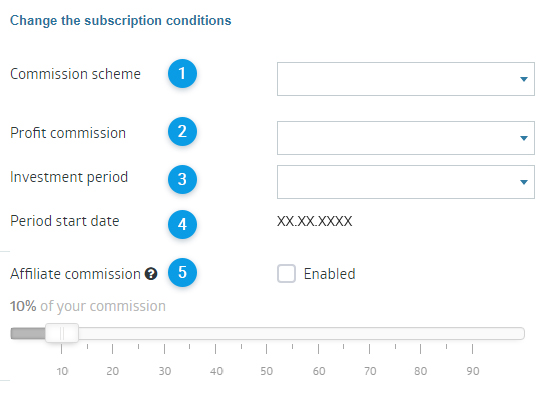 MAIN CONDITIONS SPECIFIED BY THE TRADER:
1
Commission scheme
Trader on commission
Trader on profit
Trader without commission
---
The Trader on commission specifies the fixed rate of the commission they receive for each profitable transaction copied by the Investor.
The Trader on profit specifies the fixed percentage of the Investor's total profit for all transactions they copied.
2
Commission
Commission for a lot (1 - 10 USD)
Commission percentage (5 - 50%)
---
"Commission for a lot" is specified by Trader on commission, "Commission percentage" – by Trader on profit.
3
Investment period
---
Investment period is a period, after which you receive commission from Investors. All payments are made from 1:00 AM Saturday server time.
4
Start of the period
---
This parameter indicates when your offer will be available for Investors.
5
Affiliate program
Payout percentage (10 - 90%)
---
To read more about trader's affiliate program, visit the corresponding page of our website.
RULES RELATED TO THE SUBSCRIPTION CONDITIONS:
The subscription conditions may be changed that once a day (24 hours) at any time and day of the week, except for the period from 11:00 PM Friday to 12:00 AM Saturday server time.
Updated conditions of the subscription come into effect on Mondays. If the conditions were changed during the weekend (Saturday, Sunday), they come into effect one Monday after.
Secondary (additional) conditions may be set only after the main conditions are specified. They can be сhanged at any moment but not more often than once an hour and come into effect immediately.
You can't stop Investors from copying transactions from your account, but under certain conditions your account may be excluded from Rating:
You haven't specified main subscription conditions when opening your account.
You chose "By request" in "Subscription mode" field, but didn't tick "Show in the Rating" checkbox.
Your account balance is less than 50% of the limitations for creating new offers set by the system.