This article may contain out-of-date information.
Learn more about the terms of use of the CopyFX investment platform in other sections of the website.
Go to the main page
"MQL5 Signals" service from MetaQuotes Software Corp. allows Traders to copy transactions of other Traders. In the similar way, CopyFX system provides exactly the same opportunities for receiving additional profit. And using both services on your CopyFX account at the same time, you can double your profit!
Today we'd like to tell you more about "MQL5 Signals" service, how to connect to it, and why it may be interesting for CopyFX users.
FEATURES OF "MQL5 SIGNALS" SERVICE
The main principle of MQL5 signals is the same as copying transactions in CopyFX. CopyFX Traders are signals providers, CopyFX Investors are subscribers. Transactions from the provider's account are copied to the buyer's account right after he subscribes to the Trader's offer.
However, "MQL5 Signals" service is slightly different from our system:
FIXED PAYOUT OVER THE PERIOD
The subscriber pays the provider a fixed commission over the period of the offer, which may be a week or a month. The provider when creating the offer specifies the amount of the commission.
ACCOUNT SYNCHRONIZATION WHEN SUBSCRIBING TO THE OFFER
This feature is useful for both providers and subscribers. Subscribers are guaranteed that their connection will be safe and that they will be provided with more precise market entry, and providers are guaranteed that they will surely receive their commission.
WHY TRADING IN TWO SYSTEMS AT THE SAME TIME IS PROFITABLE FOR TRADERS?
Your CopyFX account is some kind of a "pass" to "MQL5 Signals" service. You won't have to register an additional account, deposit it, and start your trading activity "from scratch". As a result, both CopyFX Investors and "MQL5 Signals" service users will be able to copy your transactions.
Benefit of using such an approach is obvious: the more traders connect to your account, the more profit you receive. And your risks in this case are the same, they're not increasing.
Let's consider the following example of such cooperation:
Your current offer in CopyFX system earns you the commission of 20% of your Investors' profit. Let's assume that you have not one, but several accounts with the specified conditions of the subscription (offer).
Earning by yourself and receiving the commission from your Investors, you can make more than 500 USD over the period of the offer.
Now imagine that while you're trading, your transactions are being copied by Traders via "MQL5 Signals" service. And you receive a monthly fixed payout, which is equal to the number you specified during the registration. It may be additional 40, 50, 60 USD from each subscriber!
Thus, when trading in two systems simultaneously, your profit over the same period of time will significantly increase without any additional efforts and investments.
Are you interested? Then let's talk about how to start trading within the framework of "MQL5 Signals" service.
SUBSCRIBING TO "MQL5 SIGNALS"
Those Traders, who want to use the signal service, have to have MQL5 account (which can be opened at www.mql5.com) and CopyFX trading account.

The Traders, who want to sell their signals, will have to provide some personal information (full name, residence address, contact number, and scan of the passport or a similar document) and specify the conditions of selling their trading signals.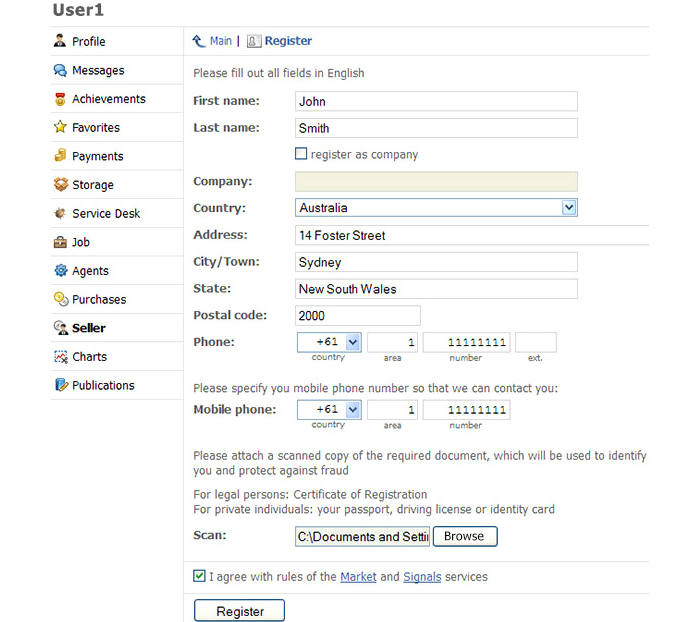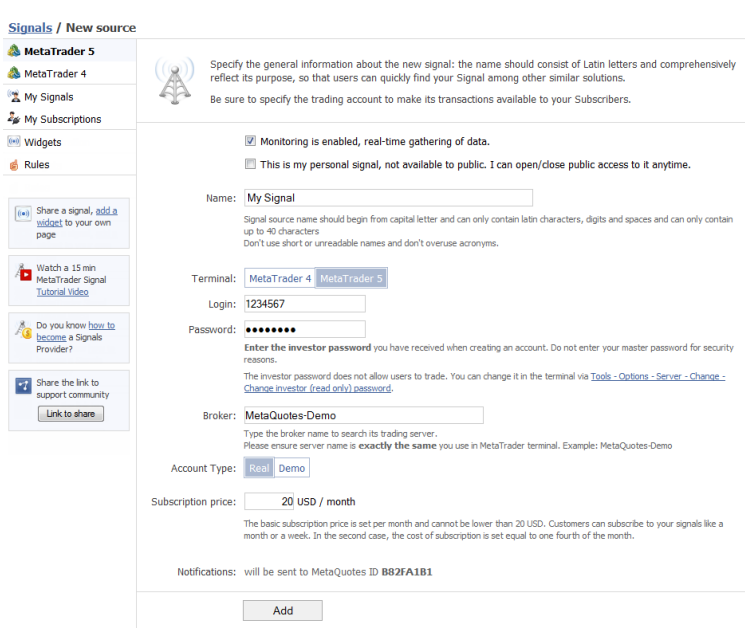 After your request is approved by MQL5, you may start trading and your signals will be displayed in the rating on the signal service website. After that, everything depends only on you: show good trading results and investors will subscribe to your offers!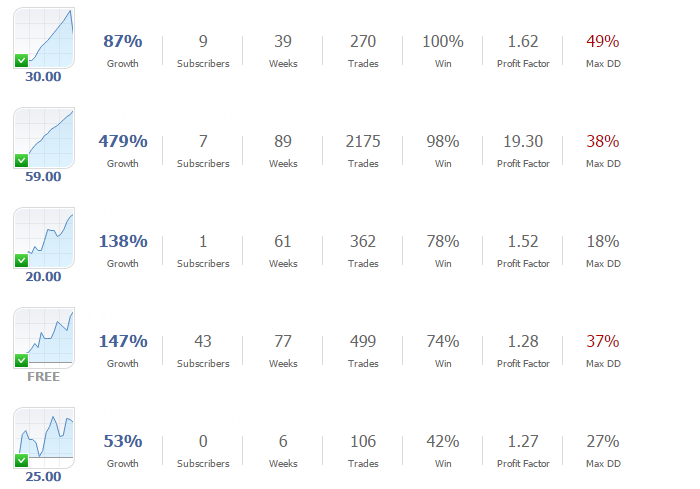 SHOWCASE OF TRADING SIGNALS
---
Today we've told you about "MQL5 Signals" service, its features, and the opportunity for CopyFX Traders and Investors to operate in both systems at the same time. Don't forget that if you're not sure about the efficiency of one or another way of making money, you can always test it for reliability using demo or cent accounts.
We wish you successful trading with CopyFX system!