This article may contain out-of-date information.
Learn more about the terms of use of the CopyFX investment platform in other sections of the website.
Go to the main page

If you've joined CopyFX community of many thousands users recently, you probably have a lot of questions. How to use the Rating correctly? How to create a new offer and attract Investors? Where to find information about all settings to be specified during subscription? The answers to these questions as well as to many others can be found in this article.
THE FIRST WAY
WEBINARS
*
Recently, we've started a series of webinars intended to interactively describe the basics of operation at CopyFX. The main advantage of webinars is that they are held by a real person, who will answer all your questions online.
Our webinars offer detailed coverage of basic principles of operation in the platform, the Rating system, conditions of subscribing to Traders' offers, etc.
When: every Wednesday at 13:00 PM (UTC+3)
Where: RoboForex Members Area (You don't have it yet? Open one right now!)
Format: interactive
Why choosing webinars: you comprehend new information better and easier, and want your questions to be answered immediately
* - at the moment, the Company doesn't hold webinars on CopyFX platform.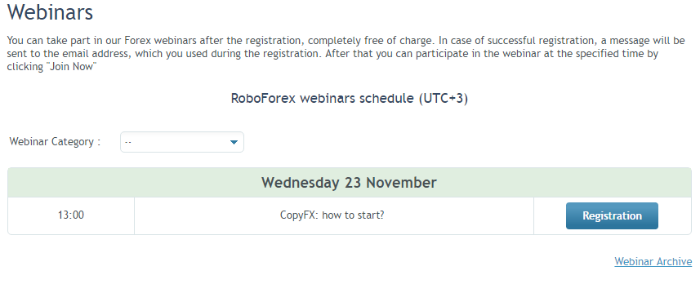 THE SECOND WAY
TUTORIAL VIDEOS
Tutorial videos are intended to make basic principles of operation in the platform easier to understand. The videos contain images of real web pages, which you'll be working with, this is why you will be to repeat the actions by yourself easily.
At the moment, the following tutorial videos are available:
The latest video will come useful to those Traders, who are intended to expand their trading activity in CopyFX platform and earn even more money thanks to our Affiliate program.
When: any time convenient to you
Where: CopyFX website main page, our channel on YouTube
Format: tutorial videos
Why choosing tutorial videos: in order to "catch on" the information, you require a combination of audio and visual components, and an opportunity to see examples of "what buttons to click".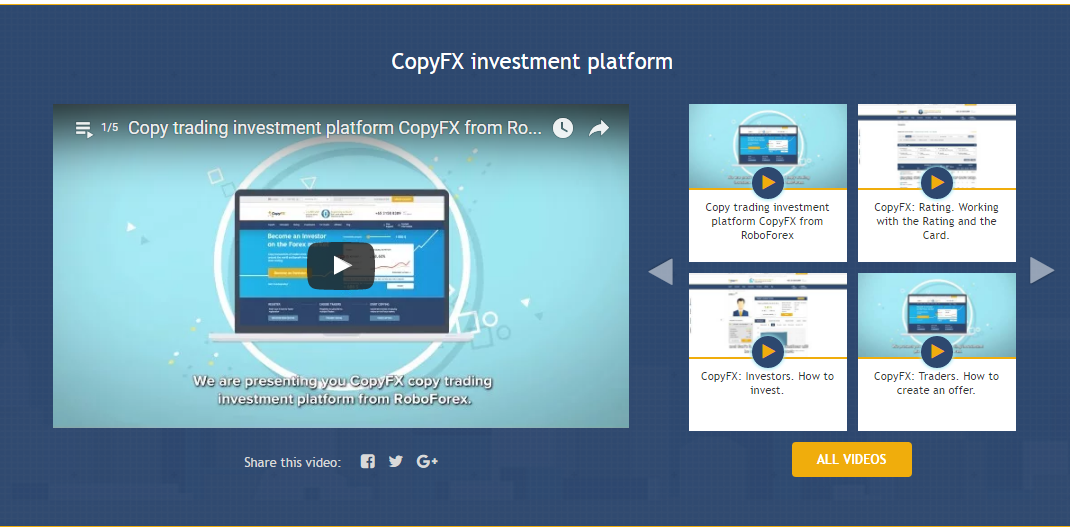 THE THIRD WAY
INSTRUCTIONS
On CopyFX website, we're trying to publish the maximum amount of information, which helps new users to understand basic principles of operation in the platform and answers any questions in case they arise. Such information can be found in "Help" section in the first place.
In this section, any Investor or Trader can find a lot of useful materials, starting from instructions on a new account opening and through explanation of principles how commissions are calculated and charged. Most instructions contain screenshots to make them easier for practical application. Apart from "Help" section, you can find answers to your questions on "Investors" and "Traders" pages as well as in "FAQ" section.
When: any time convenient to you
Where: CopyFX website
Format: text and graphic instructions
Why choosing text materials: you prefer fundamental approach to studying information, which requires going deep into every small detail.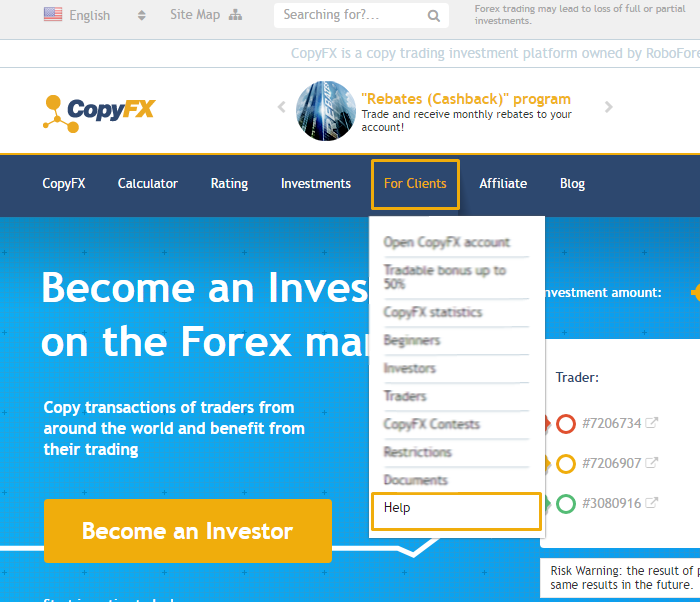 ---
In order to make operation in CopyFX platform easy and convenient for you, use all above-mentioned materials and don't forget to read our news about the platform improvement and development.
WE WISH YOU SUCCESSFUL TRADING WITH COPYFX SYSTEM!