This article may contain out-of-date information.
Learn more about the terms of use of the CopyFX investment platform in other sections of the website.
Go to the main page
Any Trader is constantly looking for something. It's necessary to choose a decent broker, suitable trading conditions, fast ways of funds depositing/withdrawal, and many other things for comfortable trading. Now imagine that there are Forex accounts, which can bring you some additional profit (besides the profit you receive from your trading operations) without increasing your risks. Would you like to trade on such account? Then welcome to CopyFX system!
How do Traders receive additional profit in CopyFX system?
Now it's time to answer a reasonable question: "What profit do I get from trading in CopyFX system?" In the system, you open any type of Forex account and can receive some additional profit in the form commission for your transactions being copied.
CopyFX offers you 6 types of Forex accounts, the same as RoboForex, which is a platform of the system. Any Trader can choose the account type, which is the most suitable for his trading strategy and goals.
Performing trading operations as if it is a usual Forex account, the Trader receives commission from other users of the systems for the transactions, which they copy from his account. In this system, the Trader's risks depend only on his trading decisions.
There are two types of commission in CopyFX system: a part of all copied transactions or for each profitable transaction made by the Trader.
1. "Trader on Profit". In this case, the Trader's commission is a percentage of the total profit received by his subscribers for the transactions they copied from his account.
In CopyFX system, the Trader can receive up to 50% of his subscribers' profit, but try not to overestimate the quality of your trading. However, if the percentage is too high, it may "scare" your potential subscribers away from your trading strategy.
2. "Trader on Commission". In this case, the Trader's commission is a fixed rate in USD for each lot of his trading volume copied by his subscribers. According to this scheme, the commission is paid for each profitable transaction and only if the profit for this transaction is bigger than the Trader's commission rate.
In CopyFX system, the Trader can set the commission rate up to 10 USD for each lot, but, like in the previous scheme, the Trader's expectations must be justified by his results and not scare his potential subscribers away.
One of the advantages of CopyFX system is that you can change the type and conditions of the offer at any moment. It allows you to control and manage your additional profit.
What do I do to join CopyFX system?
To have an opportunity to trade on Forex and receive some additional profit for that, you need to open Trader account in CopyFX system. After you register an account and deposit it, you have to specify the conditions of subscription to your offers. In the conditions, you can indicate the commission scheme you prefer and the period of your offer, during which the users of CopyFX system can copy transactions from your account.
As soon as you're done with the offer conditions, your account will be available to subscribers for copying. All you have to do is to start trading and receive the commission for your successful transactions!
Earn more with CopyFX!
So, what do you do after specifying the offer conditions? Trade, of course! After you start trading, your account will be included in CopyFX Rating, on basis of which the users of the system choose Traders to subscribe to.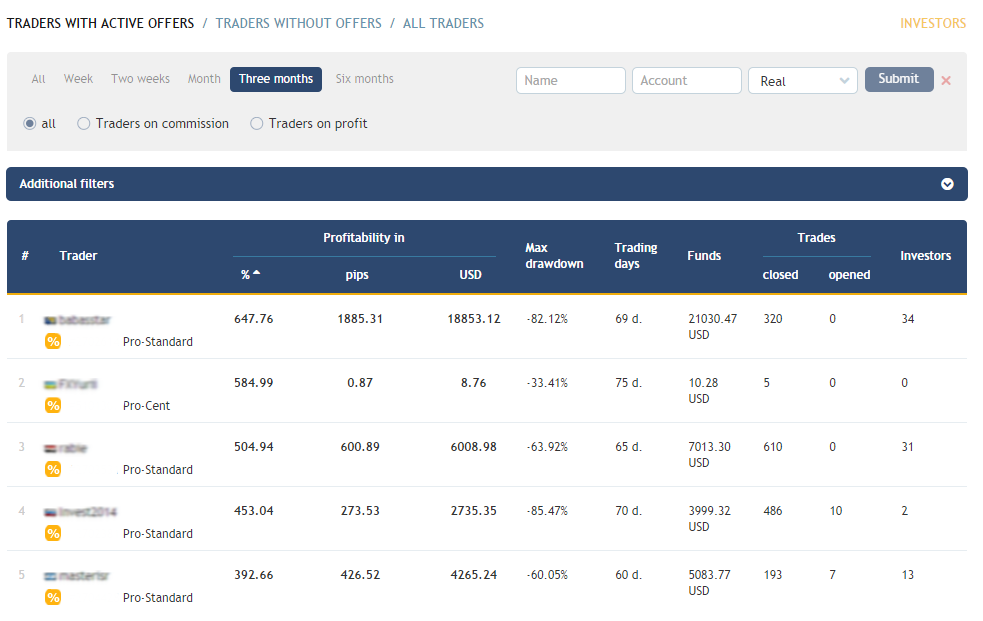 All detailed information about your trading results are displayed in your Trader's card (we told about it earlier).
If you want to increase the number of your subscribers, your profitability must be stable, you must go up in Rating and promote your Trader's card in social networks and message boards. Even if nobody copies your transactions at first, you can continue trading on your account just as if it's a usual trading account and earn money on your own.
I'm a beginner trader. Can I operate in CopyFX system?
The system provides different conditions for different groups of Traders, from beginners to professionals. For example, beginner Traders are offered to open a cent account, which helps to decrease the level of risks thanks to low initial investments.
---
CopyFX system is a huge platform where the Traders and their subscribers get together and are provided with a "complete set" of opportunities for mutually beneficial cooperation. Try and see it for yourself!